(WebP) Indrajal Comics Complete Collection (Doc MaKS) (Size: 18.65 GB)

(WebP) Indrajal Comics Complete Volume 1 & 2 (1964 - 1990) -Doc MaKS.nfo

4.27 kB

zzzzReadme Collected, Transcoded and Redistributed by Doc MaKS.txt

4.87 kB

__Indrajal Comics Complete Collection (1964 - 1990) Preview by Doc MaKS__.webp

3.04 MB

(WebP) Indrajal Comics Complete Volume 1 (1964 - 1982) -Doc MaKS.nfo

4.11 kB
58.00 B

Indrajal Comics #001 v01 (1964) The Phantom- The Phantom's Belt (WebP).cbz

28.26 MB

Indrajal Comics #002 v01 (1964) The Phantom- Prince Orq (c2c) (ICC) (WebP).cbz

24.67 MB

Indrajal Comics #003 v01 (1964) The Phantom- The Challenge Of Cannibals (WebP).cbz

26.92 MB

Indrajal Comics #004 v01 (1964) The Phantom- The Phantom And The Impostor (WebP).cbz

12.67 MB

Indrajal Comics #005 v01 (1964) The Phantom- The Phantom's Isle Of Eden (WebP).cbz

18.83 MB

Indrajal Comics #006 v01 (1964) The Phantom- The Lunar Cult (Cover Edit) (WebP).cbz

20.54 MB

Indrajal Comics #007 v01 (1964) The Phantom- The Man-Eating Plant (WebP).cbz

26.74 MB

Indrajal Comics #008 v01 (1964) The Phantom- The Playmate (WebP).cbz

24.98 MB

Indrajal Comics #009 v01 (1964) The Phantom- Thugs In Denkali (WebP).cbz

21.47 MB

Indrajal Comics #010 v01 (1964) The Phantom- The Phantom's Ring (WebP).cbz

10.40 MB

Indrajal Comics #011 v01 (1965) The Phantom- The Phantom's Treasure (WebP).cbz

14.97 MB

Indrajal Comics #012 v01 (1965) The Phantom- The Phantom Is Chained (WebP).cbz

17.27 MB

Indrajal Comics #013 v01 (1965) The Phantom- The Phantom And Samaris (WebP).cbz

13.34 MB

Indrajal Comics #014 v01 (1965) The Phantom- The Mystery Of The Rattle (WebP).cbz

18.19 MB

Indrajal Comics #015 v01 (1965) The Phantom- The Unknown Commander (WebP).cbz

15.57 MB

Indrajal Comics #016 v01 (1965) The Phantom- The Diamond Cup (WebP).cbz

13.12 MB

Indrajal Comics #017 v01 (1965) The Phantom- The Mysterious Passenger (WebP).cbz

17.92 MB

Indrajal Comics #018 v01 (1965) The Phantom- The Golden Princess (WebP).cbz

10.56 MB

Indrajal Comics #019 v01 (1965) The Phantom- Moogoo's Dolls (WebP).cbz

12.35 MB

Indrajal Comics #020 v01 (1965) The Phantom- The Mysterious Bank Robbery (WebP).cbz

11.77 MB

Indrajal Comics #021 v01 (1965) The Phantom- King Pepe's Bride (WebP).cbz

31.42 MB

Indrajal Comics #022 v01 (1965) The Phantom- A String of Black Pearls (WebP).cbz

33.63 MB

Indrajal Comics #023 v01 (1966) The Phantom- The Scarlet Sorceress (WebP).cbz

37.34 MB

Indrajal Comics #024 v01 (1966) The Phantom- The Human Beast (WebP).cbz

15.91 MB

Indrajal Comics #025 v01 (1966) The Phantom- Around The Moon (WebP).cbz

18.44 MB

Indrajal Comics #026 v01 (1966) The Phantom- The Jungle Patrol (WebP).cbz

43.15 MB

Indrajal Comics #027 v01 (1966) The Phantom- The Mystery Of Gandor (WebP).cbz

22.70 MB

Indrajal Comics #028 v01 (1966) The Phantom- The Trembling Jungle (WebP).cbz

36.71 MB

Indrajal Comics #029 v01 (1966) The Phantom- The Secret Of Nacabre's Castle (WebP).cbz

30.53 MB

Indrajal Comics #030 v01 (1966) The Phantom- The Phantom and the Girls (c2c) (WebP).cbz

22.64 MB
Files view Limit 50 — Current Torrent have 823 files
---
Description
Indrajal Comics Complete Volume 1 & 2 (1964 - 1990) (WebP)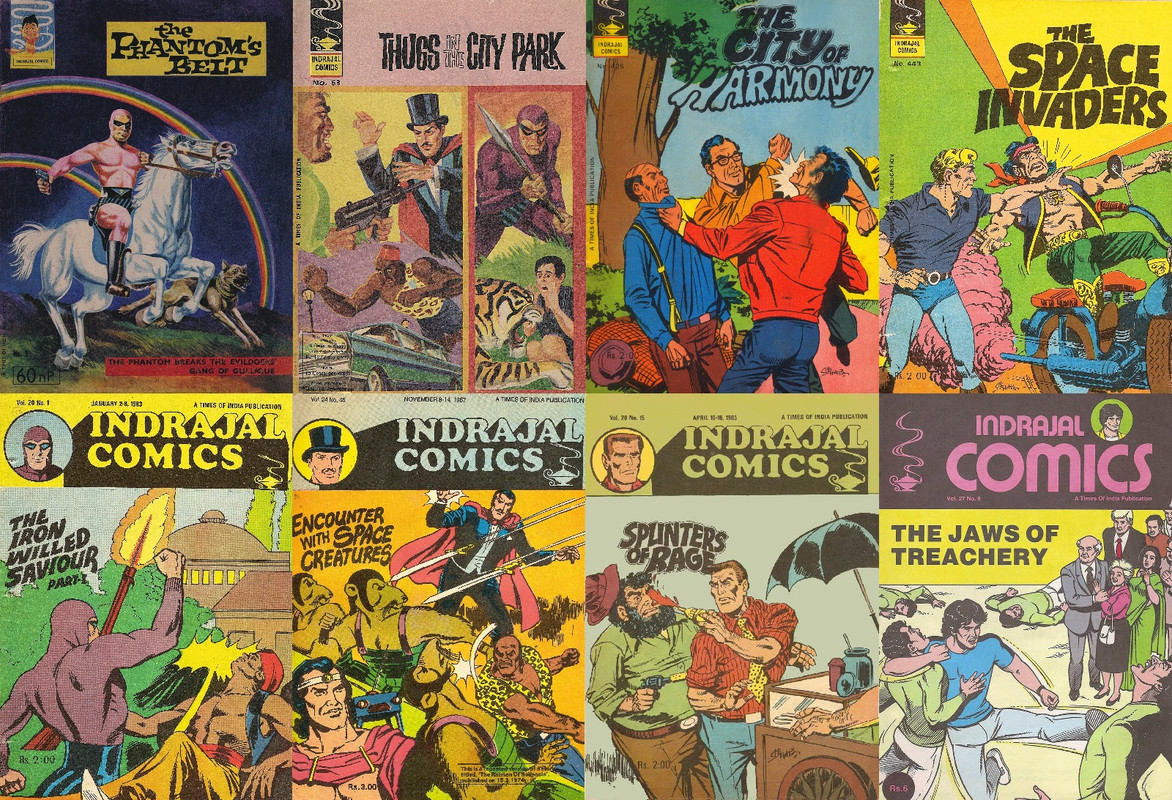 Description:
Indrajal Comics is an Indian Comic book series as well as Imprint, as Imprints
and Series are not explicitly separated among most Indian comics. Published by
the publisher of the Times of India, Bennett Coleman and Co, it produced about
805 issues from 1964 to 1990. Major characters were syndicated from King
Features, and included The Phantom (more than 50% of material featured the
Phantom), Mandrake the Magician, Flash Gordon, Bahadur, Rip Kirby, Buz Sawyer,
etc.. From 1964-1982, the issues were numbered linearly from 1-443. Issues
No.123 and No.124 were not printed due to industrial strike. From January 1983,
No.444, was identified as Vol.20, No.1, till it ended at Vol.27 No.8, which
would have been No.805 as per the original scheme. The series was variously
published as a weekly, monthly and fortnightly.
Indrajal Comics V01: English | CBZ | WebP | Collection | 443 Editions | 11.1 GB
Indrajal Comics V2x: English | CBZ | WebP | Collection | 362 Editions | 7.49 GB
My sincere thanks to the original scanners and uploaders.
Took a few years to find all editions. So, Thoroughly Enjoy the Treasure!!!
Regards,
Doc MaKS
---
---